What Do You Get When You Take a Stately Old Country Club and Modernize Everything? - Edgewood Country Club!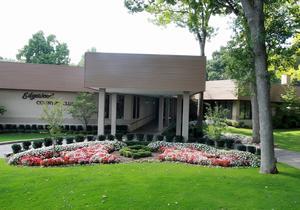 No traditional country club worth its salt can sit back and rest upon its laurels. We certainly won't! Edgewood Country Club puts its best face forward, staying on the forefront of technology and design, taking our 60-plus years of tradition proudly into the 21st century.
Our commitment to providing you the utmost facilities can be seen in a complete, multi-million dollar clubhouse redesign, along with the addition of a banquet room and golf shop enlargement.
The Fireside Room was completely renovated in 2005 and features gourmet dining, a baby grand piano and the warmth of a fireplace. This is an exceptional room for entertaining your guests or a private gathering with family. Reservations are suggested to help our staff plan and ensure immediate seating.
The Mixed Grille Room was completely remodeled as well, giving it a fresh new look. This is a popular gathering place with a menu consisting of time-proven club favorites and regional specialties. Our award-winning chef has developed a menu for every occasion. Dress is casual and the grill is open for breakfast on weekends, with lunch and dinner served daily during the golf season. An outside patio is also available for food service and is very popular during Edgewood cookouts.
You'll find our clubhouse serviced by an experienced and exceptionally friendly staff.
Join the Edgewood Family today! Request more information or call us at 248-363-7112 to arrange a tour of the facility and play your FREE round!