"Old Style" Golf Enhanced with all the Modern Amenities
Bring your latest hybrid-alloy-balanced-fitted clubs and distance-enhanced balls – and come enjoy a golf course built for the way the game was meant to be played!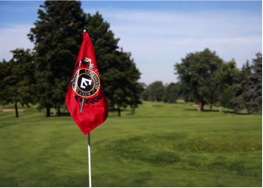 Edgewood is a golf course best described in two words: manicured and mature.
You'll recognize the uniqueness of Edgewood from the first tee.
At 6,400 yards from the tips, Edgewood's par-71 layout is a challenging yet player-friendly golf course. Edgewood allows you to experience a truly unique game of golf.
Over the years Edgewood has continued to improve thanks to an active membership and a team of professionals. World-renowned golf architect Arthur Hills undertook renovation of the golf course in 1989. He rebuilt and reshaped greens, added bunkers and resurfaced cart paths.
Among the featured holes at Edgewood is our 345-yard par-4 #14, where Hills brought a lake into play around the green. To add privacy, a beautifully-landscaped berm along Commerce Road (following holes 7 through 9) was built in the fall of 1994. Recently, we remodeled #18 to add a risk-reward element to the conclusion of your round.
Edgewood allows you to experience a truly unique game of golf. You'll encounter a variety of golf holes which include deep sand bunkers, beautifully-groomed fairways framed by overhanging trees, gentle elevation changes, subtle contours — and water.
Edgewood is 18 holes designed with fairness and challenge for both men and women.
No matter how well the golf course is designed, your ultimate pleasure is based on its condition.
For years, Edgewood has ranked as one of Michigan's best-conditioned courses. Our fairways are beautifully manicured, greens putt true and our traps are always raked and full.
Edgewood's directors have pledged that their golf course (your golf course?) will always be maintained at the highest level.
We aerate early in the spring and again in late fall. So as to not interrupt play for any length of time, this is done on Monday's.
"As soon as it's playable, we get you back out there." — Brent Kish
We stay open as long as we can keep the course in the kind of condition you'll enjoy and we can be proud of. We typically close from the time the snow flies until the weather breaks again in spring.
Your Edgewood round goes something like this, according to our Pro Brent Kish:
At the first hole …
favor the right side of the fairway to avoid the water and trees on the left. Keep your approach shot below the hole because the green slopes severely from back to front.
The best par-5 …
is #3, a sharp dogleg left with OB all the way down the left side, very tight, with fairway bunkers down the right and left sides. A long, true drive will give you an opportunity for birdie
The best par-3 …
is #9, a 206-yard, all-carry to an elevated green. A good shot here is a must!
The toughest hole on the golf course …
is waiting for you at #4. It's a very tight, 384-yard par-4 with OB on the left, thick pines on the right, a large, deep bunker in front of the green – and a very undulating, small green.
The most difficult green …
has to be #12. It features a great deal of slope from front to back with a large elephant-type mound right in the middle of the green. Tough to find an easy pin position here!
Any final advice?
If you're a straight hitter, holes 13 through 18 are the "home holes" and they all provide you with a good scoring opportunity.
Learn more about Earnest Way Inspiration - Arthur Hills Improvements here!