Jamil Barqawi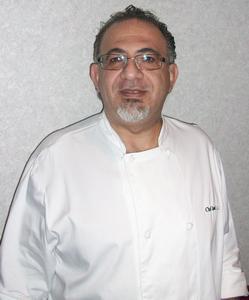 Chef Jamil has been in the culinary field for over 32 years, with 25 years as an award-winning Executive Chef in fine-dining establishments throughout the United States, and focusing the past 20 in the high end Private Club sector.
Chef Jamil received his culinary education from the Culinary Institute in his native Jordan, and continuing his advanced studies in International Cuisine at the Les Roches Royal Academy. Chef excelled in his educational disciplines, which emphasized classical French and European cuisine, hospitality management, a "farm-to-plate" focus on food knowledge, and extensive training in food and wine pairings. Chef's culinary talents eventually took him to the United States, and from Texas to Minnesota to Arizona and eventually Michigan, he continued to add to his proficiency, and through the process became an award-winning executive Chef, having received the DiRONA award (Distinguished Restaurants of North America) and received twice from Wine Spectator their Best of Award of Excellence, both one and two goblet recognition.
Chef Jamil has developed a comprehensive understanding of the private club environment and its complexity, and fully realizes that the only way to deliver consistency in excellence to the members is by being a hands on chef with high integrity and dedication to his craft. When asked to describe his philosophy of food service, "Consistency in excellence is my ultimate goal when it comes to member's dining experience, I am a hands on chef, I make sure that the food products purchased are of the highest quality, I inspect the product upon delivery and implement standard operation procedures to make sure that the product is handled with the utmost care, through constant inspection, training, creating recipe books and close supervision. I insist on consistently serving only the best. I love to cook with my team on the line and speak with the members after the dinner service"
Chef Jamil is an asset to the club and will help uphold the strong commitment the club has made to the culinary arts, and his culinary and business experience positions him to continue the great dining expectations Edgewood County Club has developed.