The Latest Fashions and Accessories for Our "Old Style" Course!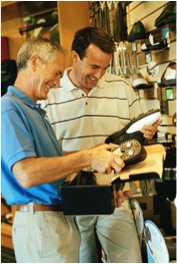 You may cherish playing on a traditional course here at Edgewood Country Club, but we'll have you looking like a modern-day Tour Pro!
The golf shop carries the latest in fashion and equipment and accessories. A wide selection of golf attire and equipment is available.
Our staff of golf professionals are fully qualified to assist and advise you on any part of your game.
We carry a complete line of logoed shirts hats, etc. Plus you'll find us competitively priced, maintaining costs at 20 percent above cost.
On-site club repair.
If it can be done to a golf club — club fitting, alterations, re-shafting, re-gripping – we do it here!
All club work is done in-house and we give you same-day service if your particular repair doesn't require any special parts ordering.